It was inevitable.
For homeowners, the cost of higher home values is higher property taxes.
In Silicon Valley, where the tech economy has pushed unemployment levels down to 6.6 percent, home prices are booming.
The median single-family home (SFH) prices in Santa Clara County (Silicon Valley) came in at $795,000 in April, just $70,000 off the peak $865,000, 10-year high record set before the crash, according to MLSListings, Inc.
Santa Clara County's Assessors Office said the market value of 47,000 properties have risen above purchase prices. Some of them were purchased at the peak of the market and will see their property taxes return to the new values.
Another 81,000 remain less than purchase price, but due to home value increase, also will still see hefty property tax increase when their next bill arrives in October.
As prescribed by state law, the remaining three-quarters of all homeowners in Santa Clara County will also see their property taxes rise, but only by two percent.
The annual 2013 notice of assessed value, the basis for the property tax bill, arrives during the last weekend of June.
"Santa Clara County is one of only ten counties in California to provide this early notice. Most property owners in California learn of their assessed value for the first time when they receive their tax bill," said long time County Assessor Larry Stone.
Property tax resources online

Homeowners wo signed up for the electronic "Email Opt-In Request" will get thier assessment earlier by e-mail.
Another online tool "Appraisal and Comparable Sales Look-Up" enables homeowners to understand which comparable sales were used to support their assessment.
The assessor's office offers a map and other data to reveal which areas are most likely to see larger increases in property taxes.
The largest increases will be in areas where home value increases have exceeded an average 20 percent – South San Jose and Mount Pleasant areas in San Jose, Campbell's Moreland district and Sunnyvale, though North San Jose, San Jose's Willow Glen area, and Santa Clara are also near the top of the heap.
The level of new assessments will vary. Not all homes in those areas have been assessed at the same higher value. In most cases each property is assessed individually.
"What has surprised me is the speed and steepness of the recovery in the residential market. In some areas, we are seeing significant increases in the market values of homes and condominiums. For example, in the Alum Rock Elementary School District, 889 condominium properties experienced an average increase in market value of $55,000—a 29-percent increase over the prior year. Yet, many of these properties still remain far below their purchase price," said Stone.
Click to open and enlarge the full map.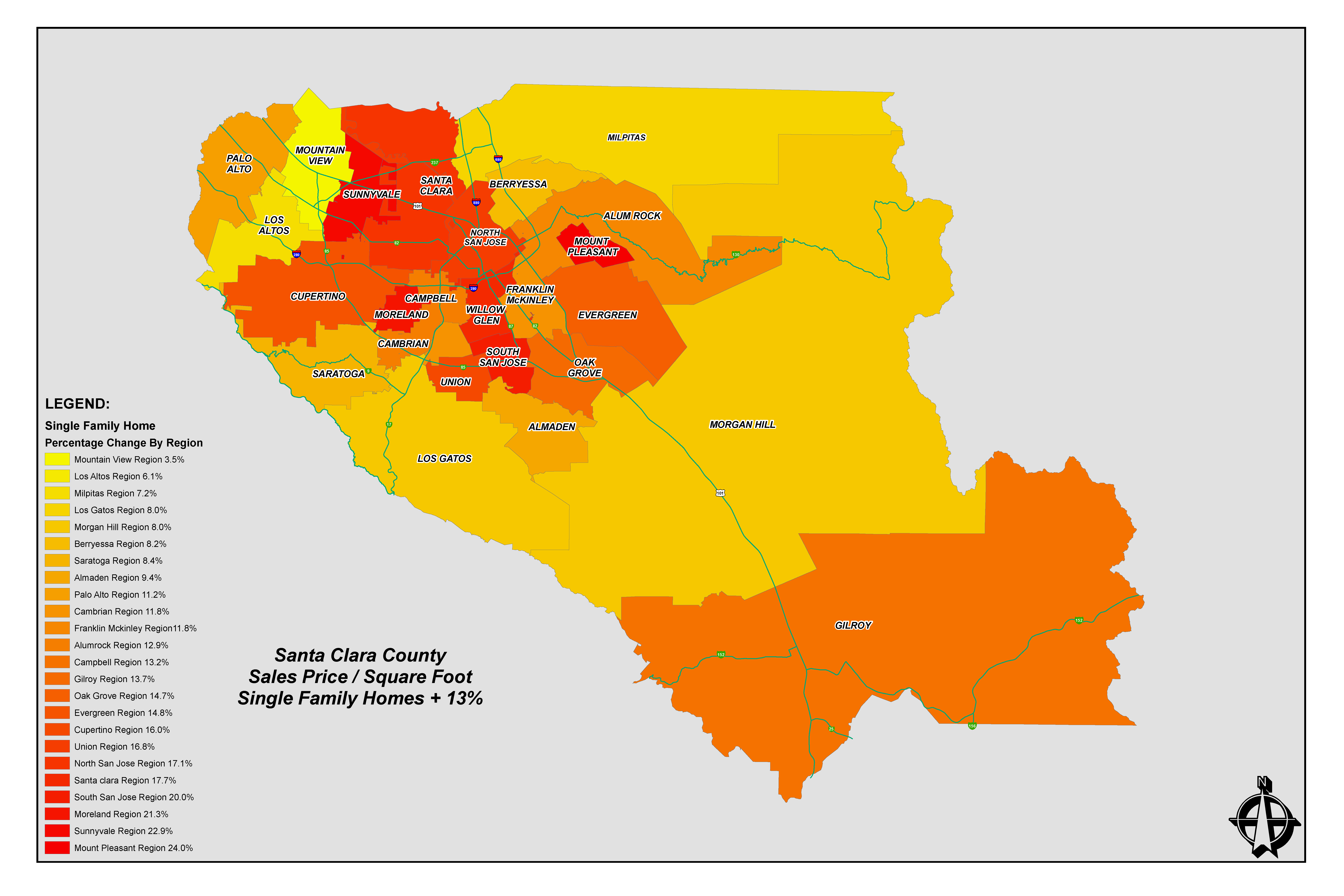 Homeowners can appeal property tax increases from July 2 to Sept. 15. There's a $35 filing fee.
Beware of official looking mailed and emailed property tax appeal come-ons, fraud, scams and other pitches offering to appeal filing services, typically for more money.
It's relatively easy for homeowners to complete the appeals process themselves. For the assessor's filing fee, the assessor's office offers assistance.
When property taxes fall

When the market value of a property declines below the previously established assessed value measured as of January 1 each year (lien date), the assessor is required to proactively reduce the assessed value to reflect the lower market value.
However, as the real estate market rebounds, the assessor is required to "restore" the assessed values for properties previously reduced during the downturn.
Unfortunately, Proposition 8 makes the restoration happen faster than the reduction.
"If a property assessment was reduced during the recession, the restoration of its assessed value is not limited to two percent, until the market value reaches a property's purchase price plus the annual inflation increase of no more than two percent. The market solely determines whether the assessed value of a property is reduced or restored," said Stone.
Don't salt your beer with too many tears.
Property taxes support K-12 and community college education primarily, but are also used to help finance some city services.
"While increases in property taxes are never welcome, this is actually very good news for our local economy … The increases in assessed value are clear evidence that Silicon Valley is roaring out of the economic abyss created by the recession," Stone said.